What is Melasma? 
Melasma is a commonly acquired, chronic pigmentary disorder affecting millions worldwide. The condition can affect all races and genders. Still, it is primarily observed in individuals with darker skin types (Fitzpatrick skin types III-V), particularly in people of Latin American (10-30%) and South East Asian/South Asian (40%) ethnicity. At least 90% of those affected are women, with the average age of onset between 20-40 years.

While Melasma is benign, it can cause emotional distress by adversely affecting the patient's self-esteem and quality of life. Therefore, I wanted to use this opportunity to provide evidence-based clinical updates for our readers to help improve our understanding of the condition and give a short summary of treatment options that are available today.
What causes Melasma?
The pathogenesis of Melasma is multifactorial and poorly understood. Several aetiological factors have been identified as leading to the release of vascular mediators that stimulate angiogenesis and the subsequent activation of melanocytes in the epidermis and dermis layer. These common factors include sun exposure (UVA, UVB, visible light), family history/genetic predisposition, pregnancy, exogenous hormonal influences (oral contraceptives, hormone replacement therapy), thyroid dysfunction, and medications (anti-epileptic, phototoxic).
What does Melasma look like? 
Clinically, Melasma is characterised by symmetrically distributed brown macules or patches with irregular borders. Melasma frequently involves the face and may affect other sun-exposed areas. It can appear in three distinct patterns, including Centrofacial (forehead, nose, chin, upper lip), Malar (cheeks), and Mandibular (lower jawline). As a result, it significantly impacts appearance, causing psychosocial and emotional distress and reducing the affected patients' quality of life. Many modalities of treatment for Melasma exist; unfortunately, this condition remains a therapeutic challenge due to the incomplete understanding of the pathogenesis, its chronicity, and constant relapses.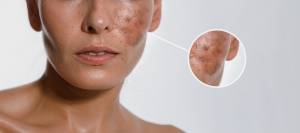 What are the treatment options available? 
Multiple treatment modalities for Melasma are available, generally divided into two categories: non-energy-dependent and energy-dependent. Non-energy-dependent treatments include topical medications such as hydroquinone (HQ), azelaic acid (AA), triple combined cream (TCC), tranexamic acid (TA), chemical peels etc. On the other hand, energy-dependent treatment includes IPL, lasers, RF micro-needling etc. And, of course, always protect our skin by using sunscreen!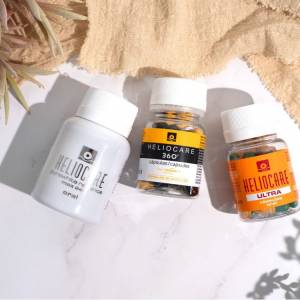 Sunscreen with an SPF of over 30 is the most important in managing Melasma. Studies show that iron-oxide-containing sunscreen provides better protection from visible light. Topical HQ and TCC are regarded as the gold-standard treatment for Melasma and continue to be the most effective and extensively studied therapy for Melasma with mild to moderate risk of local adverse reaction. However, a prolonged treatment duration of more than 24 weeks is needed, and relapse can still occur.
Chemical peels such as glycolic acid and salicylic acid peels are widely used to manage skin rejuvenation, acne and hyperpigmentation. However, studies have not shown the superior efficacy of chemical peels over topical agents for melasma treatments. It is also important to highlight that the risks of side effect, especially PIH, is more pronounced when chemical peels are included in the treatment regimen.
Oral systemic agents such as tranexamic acid (TXA), polypodium leucotomos extract (PLE), and carotenoids have been studied as potential treatments for Melasma. Oral tranexamic acid is effective in subjects with Melasma refractory to standard topical therapy. The most common dose for melasma treatment is 250mg twice daily. However, the side effect of gastrointestinal upset and headache is common (up to 37%). TXA also carries a risk of DVT due to its antifibrinolytic properties. Thus, before starting a patient on TXA, patients should be carefully screened for risk factors of thromboembolic disease.
Lasers and light-based treatments have shown promising results in multiple randomised trials. Laser toning with low-fluence QSND: Yag or Pico laser has been commonly used to treat Melasma. However, there are also increased risks of side effects, including the paradoxical increase in pigmentation due to direct damage to the skin secondary to laser treatment.
RF micro-needling has been shown to give sustained long-term improvement of recalcitrant Melasma. However, the exact mechanism that promotes this skin lightening has yet to be fully understood. It's believed that as RF micro-needling promotes fibroblast proliferation and upper dermal collagenases, RF micro-needling can restore upper dermal and basal membrane damage in Melasma, disfavouring the contact of melanocytes with dermal released melanogenic stimuli as endothelin, stem cell factor and hepatocyte growth factor. Additionally, a thickener epidermis can promote additional protection against UV damage. Moreover, there is an increase in transepidermal drug delivery for at least 72 hours after the procedure.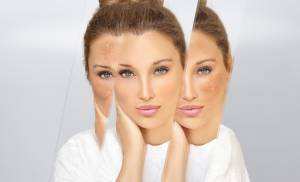 Don't hesitate to contact us for additional information about Melasma and how we can help. Let us help you to restore radiance, banish blemishes and turn back time!