Discovery PICO Laser
Discovery PICO laser is a non-ablative laser that is used for pigmentation removal, acne scars, skin rejuvenation and brightening, and tattoo removal.
Discovery PICO is different from traditional Q-Switched lasers because it can generate higher power laser energy in shorter bursts (picosecond versus nanosecond bursts of Q-Switched lasers) to fragment pigmented particles into a thin "dust", breaking up melanin and pigment particles.
By working in picosecond pulses, it minimises heat generated and enables skin to clear these fragments faster and easier, reducing the number of treatments required.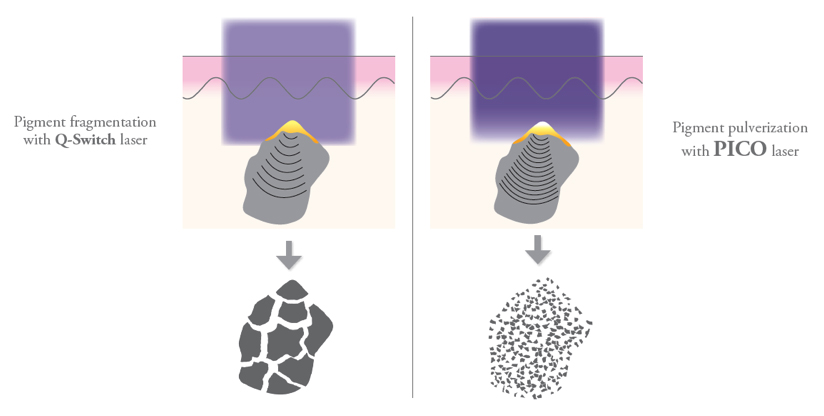 How many sessions are needed?
For effective removal, it is necessary to undergo a series of treatments. Depending on the type of pigmented lesions and the degree of lesions, this procedure usually takes from 3 to 6 treatments. The melanin pigment continues to fade in between each treatment.     
What are the expected results?
Within a few weeks, you will notice a change in the pigmented lesion. As the ink begins to fade, clear areas will begin to appear.
Is there any downtime?
You can resume daily activities immediately after the laser. However, it is advised to avoid prolonged or intentional strong sun exposure for a week after the laser to avoid hyper-pigmentation.
For certain patients, some greying/browning/darkening of the existing pigmentation may be expected before it fades off. This is normal and one should not be worried as it will fade off in time.