What is Deusaderm?
Deusaderm is an injectable collagen gel purified through Sunmax Biotech's patented purification platform. The natural property of Deusaderm injectables enables the skin to restore lost collagen in the dermis and improve appearance.
Being biocompatible and biodegradable, it offers your skin a subtle and natural result, no adverse effects, little downtime, and an overall improvement in appearance.
How does Deusaderm work?
Deusaderm is bioengineered to mimic the natural structure of the body's very own collagen. It works effectively by creating a bonding matrix in the dermis, leading to a more youthful appearance.
It is an ideal treatment for areas with thin and delicate skin such as the under eyes, facial lines, and wrinkles. Patients can get this immediate eye-concealer effect unlike the formation of a bluish colour at the HA injection site.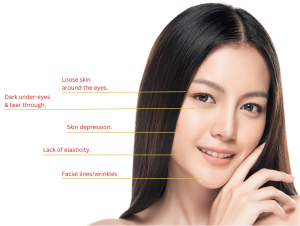 The benefits of Deusaderm

Instant Refill
Deusaderm will directly fill in pure collagen into the dermis of your skin, this will restore the lost volume caused by ageing.
Form Structure
Deusaderm collagen combines with the skin tissue to improve wrinkles and contours by providing soft and natural-looking structural support.
Improve Skin Tone & Texture
Deusaderm collagen degrades into amino acids that brighten and smoothen skin by interacting with the tyrosine pathway.
Collagen Regeneration
Deusaderm encourages the growth of the dermis cells to enable collagen synthesis, migration of fibroblasts, and new vascularization.
How many sessions are needed?
Generally, only 1 session is required. Treatments can be repeated after 2 years.
When can I see the results?
Patients should expect to see their dark under-eye circles disappear right after the injection. Patients should notice an overall visual improvement in their faces within 4 weeks following the injection.
Is there any downtime or side effects?
At the injection points, some patients may feel brief redness, minor bruising, discomfort, and itching. These side effects should go away in a few hours to a day. Additionally, the chance of an allergic reaction is very low and with no long-term negative effects exist.