By Dr. Vipatsorn Shutchaidat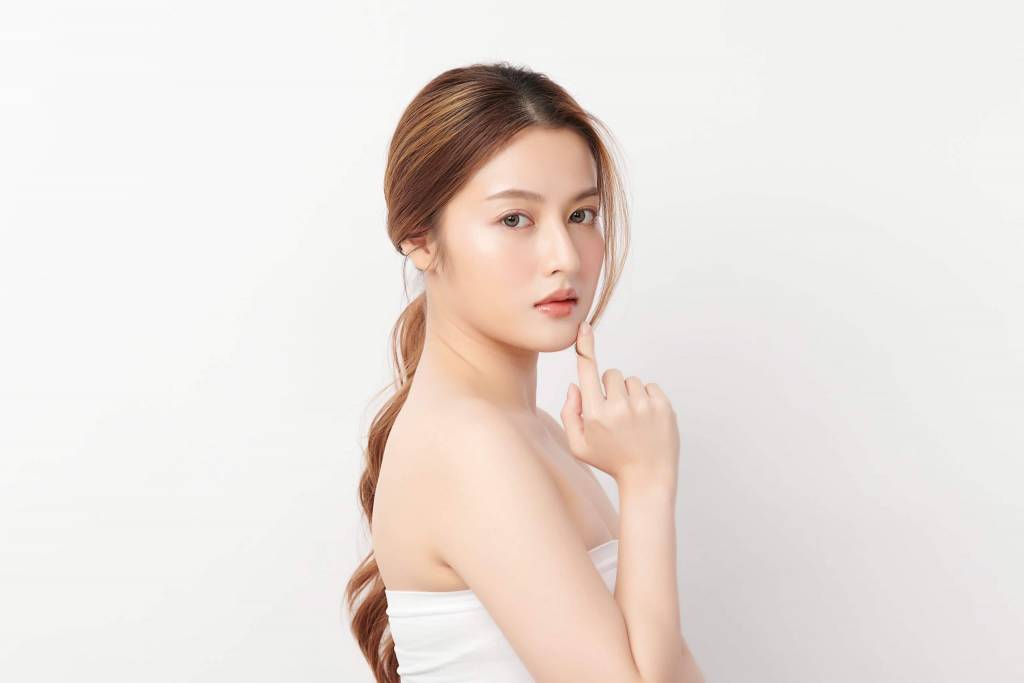 Why does our skin age? What are the available treatments in the market to treat skin aging and laxity? Let Dr. Vitapatsorn Shutchaidat shares more about the various non-surgical and non-invasive skin tightening treatments.
Q: Why does your face age, and what can you do?
A: Aging of our skin results from both the passage of time (intrinsic aging) and cumulative exposure to external influences (extrinsic aging). Extrinsic factors are, to varying degrees, controllable and include exposure to sunlight, pollution or smoking, repetitive muscle movements like squinting or frowning, and miscellaneous lifestyle components such as diet, sleeping position and overall health. Intrinsic aging of the skin, on the other hand, occurs inevitably as a natural consequence of physiological changes over time at variable yet inalterable genetically determined rates.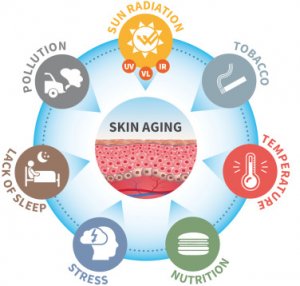 The rate of collagen synthesis changes as we age; our skin gradually loses its ability to reproduce collagen and elastin proteins. These two essential structural proteins are crucial components that connect our inner skin tissues to help keep the skin taut, hydrated and firm. But after the age of 20, we lose elastin and collagen at a rate of 1% per year! By the time we hit our 30s – 40s, our skin is on a fast downward trajectory towards sagging skin, looseness and the formation of fine lines and wrinkles.
Nowadays, various non-invasive, non-surgical skin tightening and face contouring devices are available in Singapore. However, many patients have doubts and concerns about the multiple options available – so let us discuss which one is the best?
Q: What options do I have? 
A: Here are three popular treatments:
Thermage FLX
Thermage FLX is a non-invasive and non-surgical skin tightening treatment that is US FDA-cleared to smooth, tighten and contour the skin for an overall younger appearance.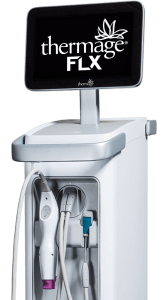 Technology: Monopolar Radiofrequency (RF) energy can tighten and re-contour the skin while working on superficial skin layers. It is excellent for patients who want to address the texture and quality of sagging skin. It has the power to tackle problematic issues like cellulite or drooping fat thanks to its emphasis on contouring.
Depth: Thermage uses a smooth-tip hand piece to heat the dermis layer of the skin. The latest Thermage FLX model also has AccuREPTM technology that auto-tunes each energy pulse to provide a more effective RF energy. This vital heat energy contracts collagen proteins in a three-dimensional way within the collagen-rich dermis layer of the skin and accelerates damaged skin cells' regeneration. It can cover a wider area of the body and delivers a greater volume of energy in one session when compared to Ulthera.
Target Areas: Face (including the whole forehead and eyes area), Neck (décolletage), Abdomen, Arms, Hands, Knees and Thighs.
Duration of Treatment: 1 – 2 hours
Results: Some patients notice slight tightening immediately after their treatment due to collagen contraction from the heat, but full Thermage results aren't visible until 2 – 6 months later as progressive collagen re-modeling takes over a few months. Clinical studies show that results can last up to 12 months
Ultherapy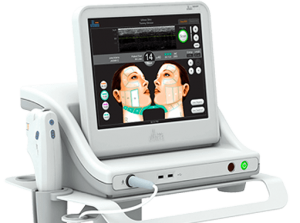 Ultherapy is a only US FDA-cleared, non-surgical procedure that lifts the neck, chin and brow and improved the lines and wrinkles on the upper chest.
Technology: High-intensity micro-focused ultrasound energy with real-time ultrasound imaging (patented DeepSEE™ visualization technology guides the entire process!), giving doctors the ability to visually detect depleted areas of collagen, which facilities a highly targeted and accurate skin regeneration treatment.
Depth: Deep penetration to the SMAS layer (skin layer that cosmetic surgeons treat during surgical facelifts), which sits just above a person's muscle tissue. The heat application at these discrete thermal coagulation points causes collagen fibers to become denatured, contracting and stimulating new collection and elastin proteins, thus creating a natural lifting effect and restoring the skin's elasticity.
Target Areas: Face, Brow area, Chin, Neck and Chest (décolletage)
Duration of Treatment: 1 – 2 hours
Results: The best results are seen 2-3 months after the treatment. You will notice that the face looks lifted with a better frame of the face. The skin will also be tauter, and wrinkles will appear shallower from collagen stimulation. Results can last up to 12 months.
High-Intensity Focused Ultrasound
High-Intensity Focused Ultrasound, commonly, known as HIFU is a non-surgical facelift technology, helping to lift, tighten and improve the elasticity of the skin. There are various brands of HIFUs from different country origin that offer different comfort levels and prices. Ultherapy is one of them.
Technology: High-Intensity Focused Ultrasound
Depth: Targets the Superficial Muscular Aponeurotic System (SMAS) layer
Target Areas: Face, Chin, Neck and Body
Duration of Treatment: 45 minutes – 1 hour (can even be done during your lunchtime)
Results: You may see some results immediately with peaks at around 2-3 months after the treatment depending on the patient's skin condition. Results can last up to 4-6 months.
Q: Is it painful? What to expect?
A: Providing excellent care to our patients and ensuring their comfort is our priority! From my experience, the patient may experience a warm, prickly sensation beneath the skin with very minimal discomfort whilst doing HIFU, and some may complain of slightly more pain during their Ultherapy treatment. Hence, we always apply a strong local anesthesia cream before the treatment! As for Thermage, there are cooling surface interfaces and a light vibrating motion which mitigate any discomfort associated with the RF heat treatment. But ultimately, the (slight) pain you may feel today will be the strength you feel tomorrow!
Q: Can you combine both Thermage and Ultherapy?  
A: Of course! Both Thermage and Ultherapy stimulate collagen and elastin production to lift the skin. The difference is that Thermage smoothens lines, lifts, firms, and contours the skin on the epidermis level or the skin's surface, while Ultherapy takes effect on the deepest facial layer to strengthen and pull up skin tissues. Hence, both treatments can complement each other by increasing collagen and elastin production and boosting your skin's ability to regenerate independently.
Q: Any side effects?
A: Both Ultherapy and Thermage are US FDA-cleared procedures. But it can have side effects, particularly in the hands of an inexperienced doctor. There may be numbness or tingling sensation in the treated area that can last for a few weeks afterwards. Burns, blisters, or scabs can form if the upper layer of your skin gets too hot. Your results and safety will depend heavily on your doctor's technique! These treatments (under the right hand) are incredibly safe treatment options.
Q: How long after my treatment can I get back to normal activities? Any downtime?
A: In most cases, patients can return to their normal activities immediately with minimal downtime or complex aftercare routine to be mindful about. Patients may experience minor swelling or redness after treatment. These side effects typically subside within 24 hours. But, of course, use a lot of moisturizers and sunscreen as always.
Q: I cannot decide – what to do? 
A: Rather than consider which treatment is best, I think it's essential to find the treatment that works best for you. I encourage you to consult with a doctor who has extensive experience using both treatments and can design a customized treatment plan. By tailoring your treatment to your precise needs and goals, I am confident you should see excellent results with this approach.
Schedule a simple assessment with Dr. Pat today to find out more.
Ageless Medical
Tel ☎️: +65 6734 4007
WhatsApp (Call/Message) : +65 8181 0680
Email 📧: enquiry@iamageless.com.sg